Please help Japan
March 16, 2011
I'm sure everyone is aware about the disaster in Japan by now. Earthquakes reaching up to 8.9 magnitude + tsunami, wrecking the country & wiping towns out of maps.
I love Japan. It's a wonderful country full of amazing food, creative & beautiful people, awesome culture & to-die-for fashion sense. I've been feeling upset over the disaster that has been going on there. It was a pain as I watched the disasters on videos. Can you imagine, those Japanese houses that are so strong because Japan is earthquake-prone, falling into pieces?
My mum told me to eat less of Japanese food from next week onwards as the radiation in Japan is currently very high. Who knows, we might be eating seafood that's affected by the high radiation.
I'm sure many people think that way too, & it will affect Japan's economy even further.
Yes, the Japanese have done things that many people don't approve of, but everybody makes sins, no one is a saint.
Please pray for them to tide through this crisis. Just a little effort like donating money means a lot to them. All they need is our help & support now.
HOW CAN YOU HELP?
The Singapore Red Cross is accepting monetary donations towards this disaster.
Cash Donation:
For walk-in donations, the SRC is open during the hours:
Mondays to Fridays 9.30am-9pm,
Saturdays, Sundays and Public Holidays 9.30am – 6pm.
Cheque Donation:
Cheques to be made payable to the "Singapore Red Cross Society".
At the back of the cheque, please indicate:
i) Name
ii) IC/Passport No.
iii) Address and Contact Number
iv) "Japan Disaster 2011"
SMS Donation:
Donors may donate via their mobile phones to 75772. For every sms, S$50 will be donated to the "Japan Disaster" fund.
You can find out more
here
.
Alternatively, if you're out shopping in town during the weekends, do drop by Takashimaya. They're collecting cash & cheque donations on behalf of the Singapore Red Cross Society till the end of the month.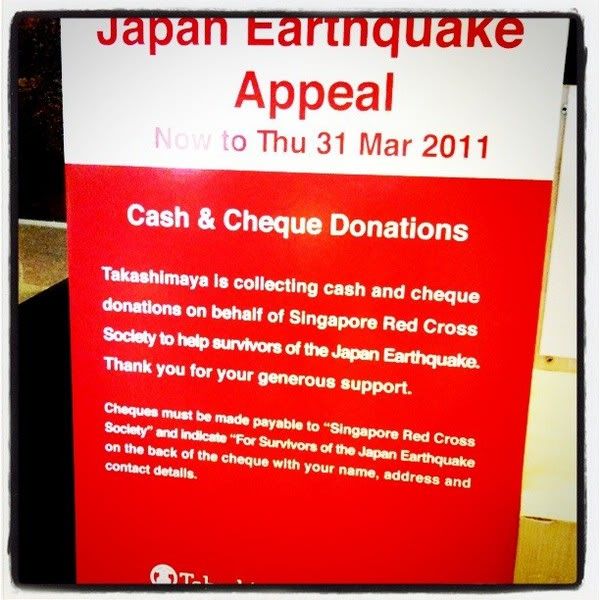 I'm donating as soon as I get my pay. Will also be going to the temple on Friday to pray. I really wish for no more disasters.