Ariel Lin X KOSE SEKKISEI { Introduction: Save the Blue Campaign }
May 28, 2012
How many of you guys here know that
THERE ARE ACTUALLY CORAL REEFS IN SINGAPORE!?
*hands up* Oh alright, I raised my hands up sheepishly as I didn't know about it until only recently.
That's right, you didn't read wrongly. Coral reefs can be found skirting many of the islands south of mainland Singapore, like St John's island for example. However, these coral reefs are slowly disappearing due to the threats of land reclamation o(╥﹏╥)o
Well, someone has got to do something! Thankfully, KOSE started the Save the Blue Project, an environmental initiative to protect the world's fast depleting coral reefs. This campaign first began off the Japanese island of Okinawa, and now it has expanded to Singapore!
AND OMG GUYS, GUESS WHAT!?!?!? Oh alright, judging from the picture and the blog title, you should already know that the new SEKKISEI Brand Ambassador is none other than my all-time favourite artiste,
Ariel Lin
! *pops champagne*
She will be part of this Save the Blue Campaign and will be *ahem* coming down to Singapore! Are you excitedddd like I am? More details in my next post alright (≧∇≦)/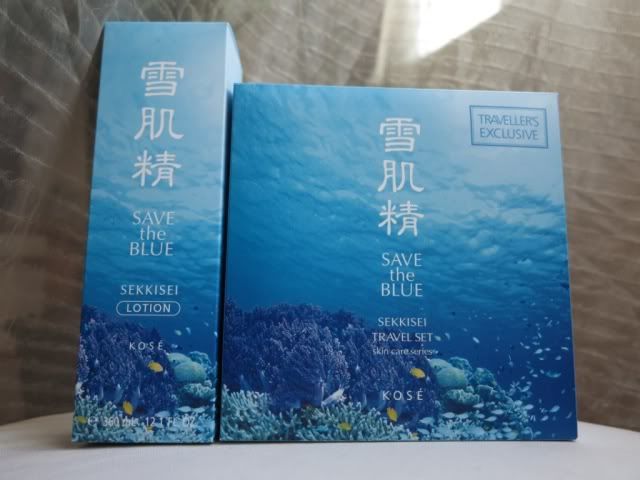 Starting from
1 June to 31 July 2012
, the Save the Blue limited edition SEKKISEI lotion and Travel Set will be up for sale in KOSE SEKKISEI stores!
For every purchase of Save the Blue Limited Edition SEKKISEI Lotion (360ml) and/or SEKKISEI Travel Set, KOSE will donate part of the proceeds to Tropical Marine Science Institute, NUS, for the research, education and conservation efforts of Singapore's coral reefs.
Not many people know this, but my favourite colour is blue because I love the sky and the ocean as they represent serenity. I don't know about you, but I always talk about wanting to do my part to save the Earth. And this is how I can; you should join in too! You might not see the difference, but these small efforts that you do is actually a huge contribution to someone else.
This is how the packaging of the Save the Blue Limited Edition SEKKISEI Lotion looks like. I really love the design! It's no wonder people say "a picture speaks a thousand words".

Did you know?
The hexagonal bottle is designed like the shape of snow flake. Also, the dark blue colour was selected in order to produce a clear image on the whiteness of snow at a ski resort, reflecting the moonlight on a pitch-dark night!
It will be retailing in stores for $121.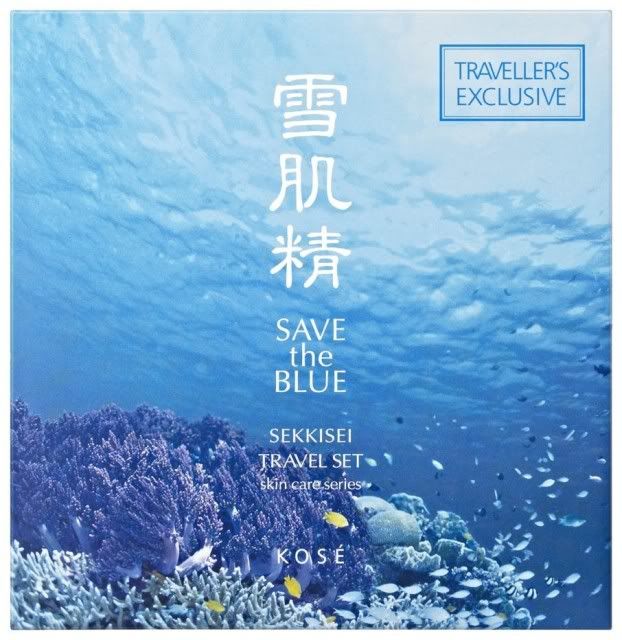 This is how the packaging of Save the Blue Limited Edition SEKKISEI Travel Set looks like.
These are the products in the travel set. It consists of the SEKKISEI Lotion, SEKKISEI White Powder Wash, SEKKISEI Emulsion and SEKKISEI Cream Excellent.
For this set, it's retail price is $209. BUT WAIT, HOLD ON.... Good news for you guys is that there will be a
special promotional price
of $142 till 31 July 2012! YAY \(@ ̄∇ ̄@)/
So what are you guys waiting for? Join in the queue for better skin and to Save the Blue, leggo!
For more sparkly information, visit KOSE's Facebook page here:
http://www.facebook.com/kosesingapore