囧班 STEAMBOAT!
June 23, 2012
After not being able to make it to Jiong outings in the past (sorry guys, I am really very busy ╥﹏╥), finally, I was able to make time for the one held yesterday evening!
Although we were tucked away at some steamboat place in Bugis (with difficult-to-connect-3G I must add. Oh, the horror.), my first gathering with the Jiongsters was definitely a pleasant one with additional surprise bonuses! Not only was it the biggest gathering with my "classmates" all the way from 囧一二三班, Lee Teng, the host from the show himself was present, together with some of my friends from his fan club.
This is one of the many group photos we took last night. It isn't very complete because some people left already, but anyway here you go!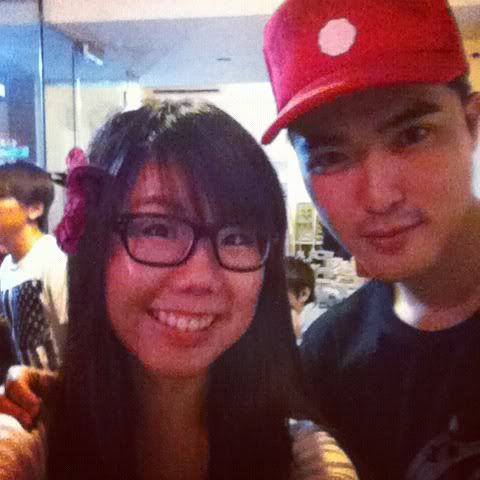 With 囧爸 Lee Teng! Damn, is he tall when I stood next to him. As you can see, my camwhoring skills are really bad. *le sigh*
I took very little pictures last night because my phone was low in battery, which was a huge regret. But I did take some pictures in other people's phones and cameras! *hint hint, TAG ME GAISEEEE!*
Billy (you guys should know him as 比利王子) was back from his school trip to Europe and got back some chocolates for us. He's going off to LA soon, SO LUCKYYYYYYYYYYYYY!
Anyway, thank you for the yummy chocolate! ♡^▽^♡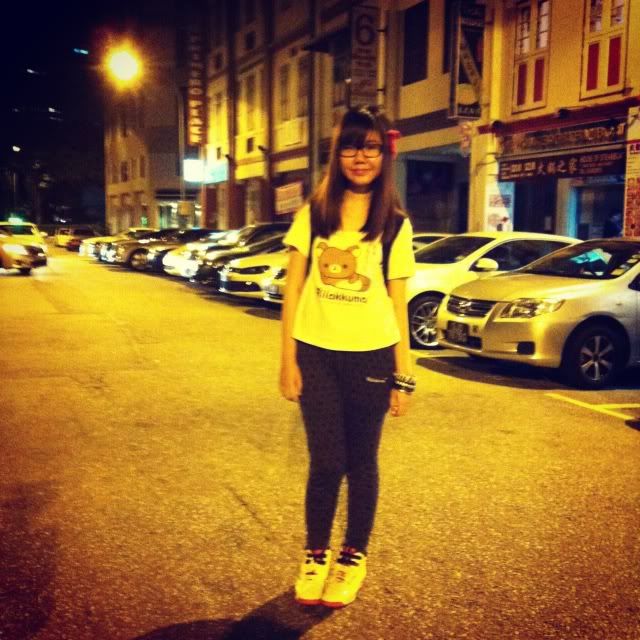 Outfit of The Day. I look really horrible, I know. Got my blouse & pants from the RILAKKUMA X BOSSINI collection.
The gathering was a little awkward at times because I didn't know many of the people from
囧三, and a lot of not-so-happy stuff happened towards the end. But it was a successful and happy one, at least for me.
I met friends whom I haven't met in a long long time. It was good catching up with each other and rushing for the last train + laughing at each other in our train cabins opposite of each other (that was fun!). More gatherings like this please! ;)
One year has past since I went for my first recording at MediaCorp for this youth talk show called Let's Talk 你在囧什么?Time really flies so fast and so many memories were made. I know I'm not "famous" in the show or anything (my parts got cut off lolololol), but that's not my purpose of joining in the first place. All that I wanted to achieve by joining this huge family was to gain experiences, TV exposure, know new friends, and to voice out my opinions, on top of so many other things. And they were all achieved. I am satisfied.
Anyway, the new Let's Talk Season 3 episodes will air in August, so be sure to catch it every week! You can visit the Facebook page for more updates and information:
https://www.facebook.com/letstalkpage