Food Review: Canto Kitchen
August 29, 2012
Since young, I frequent Cantonese restaurants very often since my mum's side of the family are Cantonese. Cantonese cuisine is definitely one of my favourites because most of the food are steamed or stir fried, so normally the finished dish is healthy, well balanced and not greasy! Surprisingly, they may look simple, but the taste is really flavourful.
Recently, a group of bloggers and I were invited to a food tasting at Canto Kitchen located in Chinatown.
Canto Kitchen started it's business in 2009 which was first headed by a cantonese chef who brought in a lot of delectable Cantonese dishes into the menu. A Malaysian chef took over and brought in his specialties like fish head curry to compliment the old menu.
Canto Kitchen is well known for it's reasonable and affordable prices for it's extensive menu and use only the freshest ingredients to prepare the dishes. It is only the air conditioned restaurant in the entire People's Park Complex to cater the humid weather in Singapore. With the combination of both chefs, Canto Kitchen now serves a wide variety of dishes to satisfy the taste buds of food savvy Singaporeans.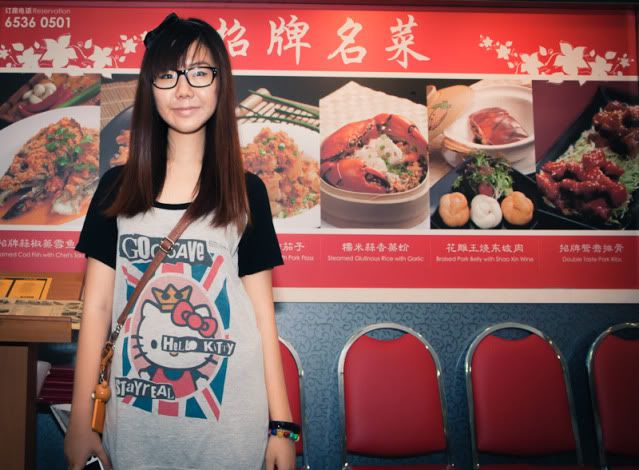 Each of us took a picture outside the restaurant before we headed inside. Thank you Mr Photographer for the picture! ;)
We were given a private room specially reserved for us to dine in. It looks like we're attending some wedding dinner, hahaha!
This is Sherbert, the Administrator of Canto Kitchen, and our host for the day. Thank you for being so informative, kind and patient with us!
And so, we started our meal! Time to sek fahn (Bon Appetit in Cantonese)!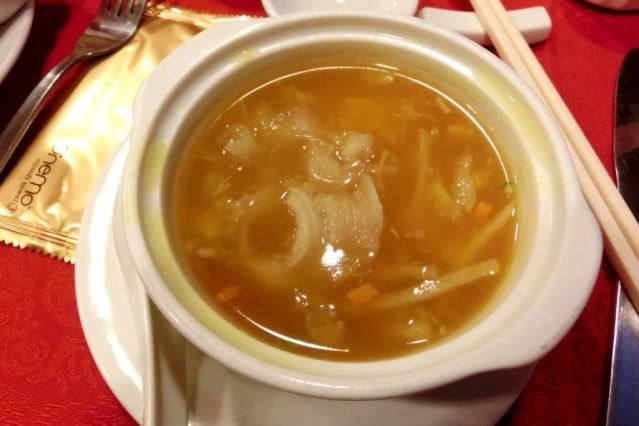 Braised Shark's Fins with Fish Maw
Yes people, the shark's fin is real! As we all know, this is a popular Cantonese delicacy. I found the portion very generous, and there's a variety of ingredients inside. I spotted prawns, carrot and fish maw, on top of many more.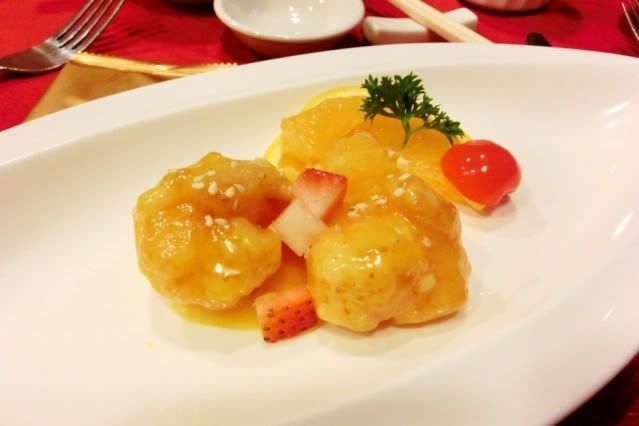 Fried Prawns with Orange Sauce
I am a sucker for prawns, having eaten all sorts of them before. But this is the first time I'm trying it with orange sauce! Very innovative. When you first put it into your mouth, you first taste the orange, and then the taste of the prawn sets in. Surprisingly, the orange didn't taste sour at all.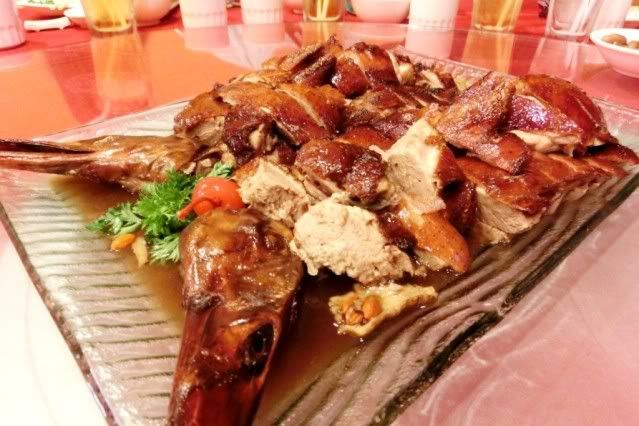 Chinese Herbal Roasted Duck
Another favourite of mine is duck, so my "standard" for it is very high. We had 2 ducks combined together specially for us. I loved how the meat was tender, and the herbal taste from the duck wasn't overwhelming. Simply said, it was good!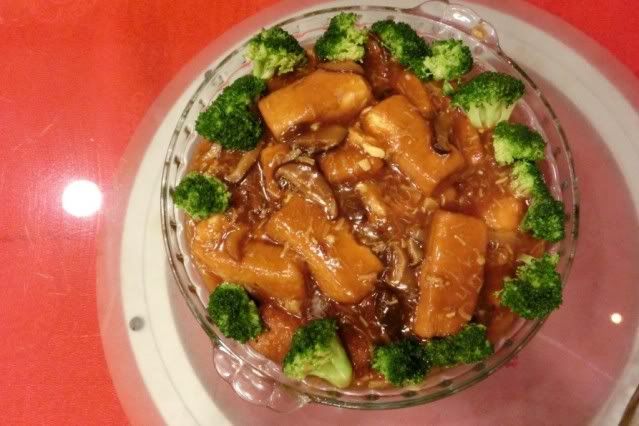 Home Made Bean Curd with Conpoy
The tofu was smooth and soft, very suitable for all ages to eat! The broccoli and the mushroom were fresh and not too hard. Add more of the sauce, and they taste really good together.
Steamed Cod Fish with Chef' Sauce
This is the signature dish, and I'm sure there's no need to ask why! The first thing everyone said when the dish was laid on the table: "WOAH IT SMELLS DAMN GOOD!" because of all the chilli and garlic. Despite that, the taste was not too overwhelming and spicy. Fish wise, there's no fishy taste that lingers. Very soft!
Poached Spinach with Whole Garlic and 3 Eggs
I've always loved this dish, and I loved how Canto Kitchen prepared it too! I don't really like eating vegetables, but this dish always trick me in a way. I like eating the eggs and the spinach together to minimise the taste of the spinach in a way?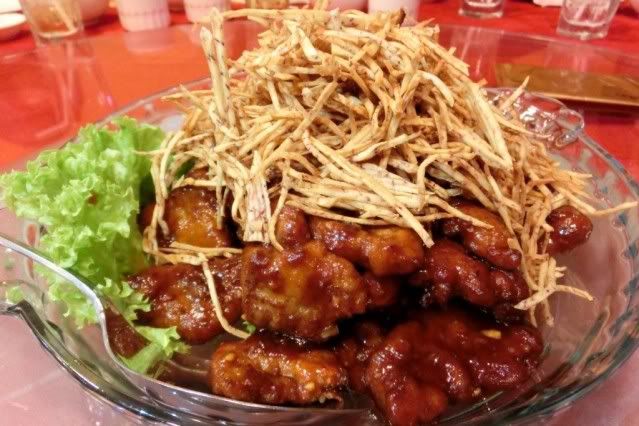 Spare Ribs with Yam in "Zhen Jiang" Style
This was everyone's favourite, it's damn good! The meat was soft and it goes well with it's sauce. Also, the yam was crispy, very unexpected!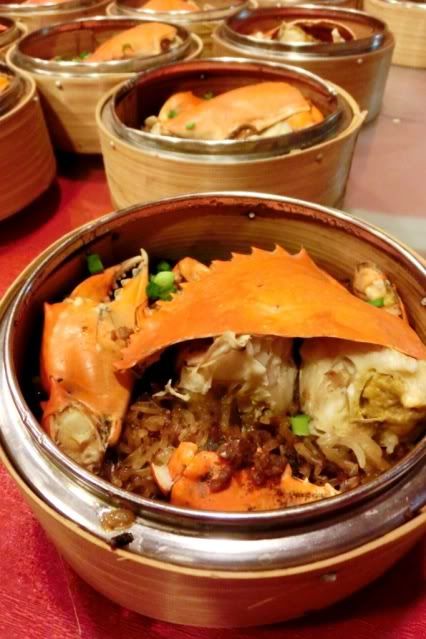 Garlic Steamed Crab with Glutinous Rice
This is my first time seeing a dish like this. I never thought that food like that can be put in small steamer baskets meant for Dim Sum! Food wise, I never expected crab and glutinous rice to go well together. I don't like glutinous rice, but this was not the overly sticky kind that I'm not a fan of.
Chilled Mango with Pamelo
And we also had desserts! I love love love this dessert so much, I order it practically all the time. Honestly, this is one of the best out of all the others I've eaten! It was not sour or overly watery. Just... Nice!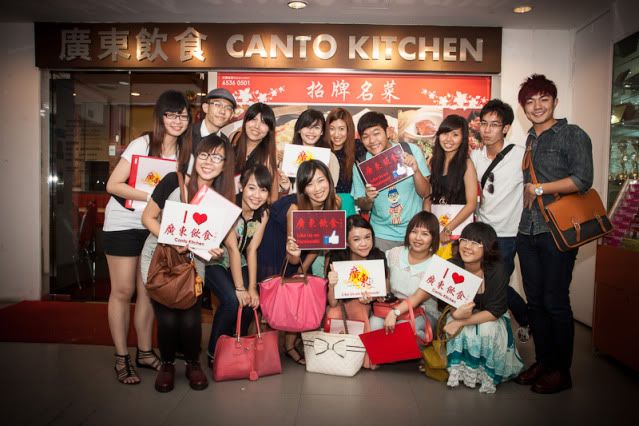 And here's a group picture of all the bloggers! :D
As of 1st September 2012 onwards, Canto Kitchen will launch 6 new set menus as follows :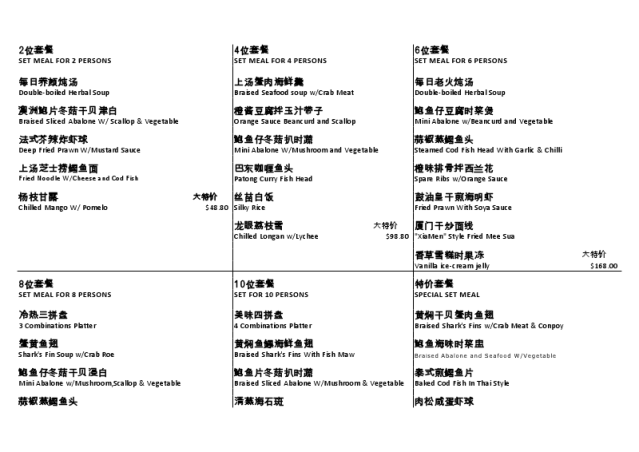 From 1st September to 30 November 2012, Canto Kitchen will be having a Joint Promotion "15 Dollars Deal" with Standard Chartered Bank.
Promotion is not valid on public holidays. Minimum of 4 pax. Price subjected to GST & Service Charge. "15 Dollars Deal" promotion is only valid for two sets menus specifically designed for the promotion.
#05-01 People's Park Complex
How to locate Canto Kitchen:
Alight at Chinatown MRT station. Walk towards People's Park Complex and enter. Take the lift opposite CK Department Store up to fifth floor and Canto Kitchen is directly opposite Five Star Travels.
Monday – Sunday (Including Public Holidays):