Let's be Creatives For Causes!
August 9, 2012
Since I was young, I watched as my parents donated our old clothes to the salvation army, put in money into the tin cans during flag days, and called up the hotlines for charity shows on television. As a curious kid, I asked: "Why are you always doing that? Why must you give away your money to other people you don't know at all, and not use the money to buy more toys for me?"
They always reminded me: "You have more than enough toys already. We have to help others who don't have as many toys as you do. Not many people are as fortunate as us. In life, we must not be selfish."
I remember reading somewhere that Mother Teresa once said: "
Let us not be satisfied with just giving money. Money is not enough, money can be got, but they need your hearts to love them. So, spread your love everywhere you go.
"
That kind of joy you get from doing your part to give back to the society is priceless. I dare say that because I've went through it myself. For now, I volunteer at Beyond Social Services through my school as a CCA. I get to help academically challenged kids with difficult family backgrounds every other weekend, and it has been nothing but a pleasure to me.
But why stop at 1 when you can do more? Which is why I am really honoured to have Jeraldine, a youth activist, writing in to me.
Jeraldine recently founded an NGO called
Creatives For Causes
in July 2012.
Creatives For Causes is a is a pioneering non-profit, pro-bono communications agency in Asia which seeks to spread awareness and inspire action for social causes, and empowering the next generation of creative talents in Singapore. They match creative volunteers with NGOs which require such services.
Attention here everyone!
I am proud to announce that they are currently looking for young creative people *ahem* like myself and yourself *ahem* who wants to build their portfolio, and at the same time, benefit society!
Before you swiftly say no, let's be honest with ourselves here - We are talented, skillful people who are blessed to be born as a normal individual. But there are some people who are not as fortunate..... So why waste our time away doing nothing when we have the ability to help change lives? I believe in good karma and positivity, and that the world is a fair place. So treat someone else like how you want people to treat you, and do it
BECAUSE YOU CAN
. You'll be amazed by all the happiness and satisfaction you get.
For more information on Creatives For Causes and to find out how to volunteer, click on these links -
Creatives For Causes Website: http://www.creativesforcauses.com/


Creatives For Causes Facebook Page: https://www.facebook.com/creativesforcauses
Since they don't seem to have a Twitter page yet, I suggest we use the hash tag #CreativesForCauses so as to create more awareness, and also to find people who are a part of this!
I've signed up as a blogger, so I hope to see you guys signing up and going for their events too alright! Do something special, a good deed this National Day for a change! :D
-----------------------------------------------------
By the way, I am taking part in their very first Facebook competition! Do help me because I really want to win the Lomo camera, pleaseeeeeeeeee~
All you have to do is to "LIKE" their Facebook page, and Facebook message them that you were referred by me. It's just this easy!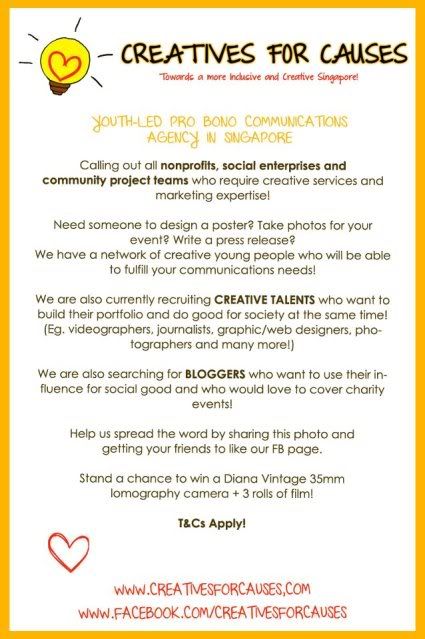 Thank you so much in advance guys! ❤