Red Cross International Bazaar
October 20, 2012
"What goes around comes around." I firmly believe in that statement. People are always clueless about what they can do to give back to society.. Well, here's a chance for you!

Happening just
TOMORROW
, I am pleased to announce that the Singapore Red Cross will be organising its signature fundraiser, the Red Cross International Bazaar! Held at *SCAPE on Orchard Road, the event will be from 10am-6pm. Even better news - President Tony Tan will grace the International Bazaar as the Guest of Honour and open the event!
Expect more than 80 stalls with an array of food and beverages, products and games from around the world will be on display, and there will be performances throughout the day. Examples are cultural performances like Brazilian Samba, Tahitian and Mexican dances, and vocal performances in a variety of languages – all while savouring delights such as American steak sandwiches, Taiwanese pineapple tarts, Thai green curry, Turkish ice cream, Japanese mochi, washed down with Arabic coffee, French or Sri Lankan teas or ice popsicles. If you're a shopaholic (like myself *ahem*), you can look forward to a kaleidoscope of good buys, ranging from handmade jewellery and swimwear to bean dolls and teddy bears!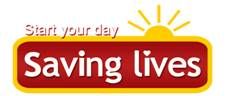 Good karma are meant for those who deserve it. Do your part for the society, start your day by saving lives; there are many people who need it. Trust me - that sense of happiness and achievement is priceless.