My Battle with Acne at DRx Clinic
December 29, 2012
From as far as I could remember, I was never the girl with good skin. Since I was 11 years old, I got attacked by the vicious and scary thing called acne. Because of my lack of knowledge regarding acne at that time, I squeezed them away with my dirty fingers whenever I see any, thinking they would eventually go away if I do so. I was having a war with myself everyday. It was tiring.
It took a huge emotional toll on me. I couldn't even find pictures of myself during my worst period of my life because I never wanted to take pictures. Some people in school called me "pimple face" whenever I walked past them but I had to pretend to laugh it off, and many distanced away from me. I remember very clearly there was this time when I was having lunch with my relatives at a restaurant, but I hid my head under the table and never dared to lift it up once to look at anyone because I was so embarrassed at myself. My confidence was totally blown away and I felt like the ugliest person in the universe. Can you imagine how huge an impact this is to a primary school girl?
I went to do countless of facial squeezing through the years that I don't know what pain is anymore. I hated it because I always go home with a face full of red, angry spots. I've also been to skin doctors and it did help to improve my condition, but then when I stopped visiting, it all came back again. I tried various creams from different brands that claim to help, but those claims are basically bullshit.
Now I look a little better, but it is still pretty bad. This is me without any Photoshop or make up :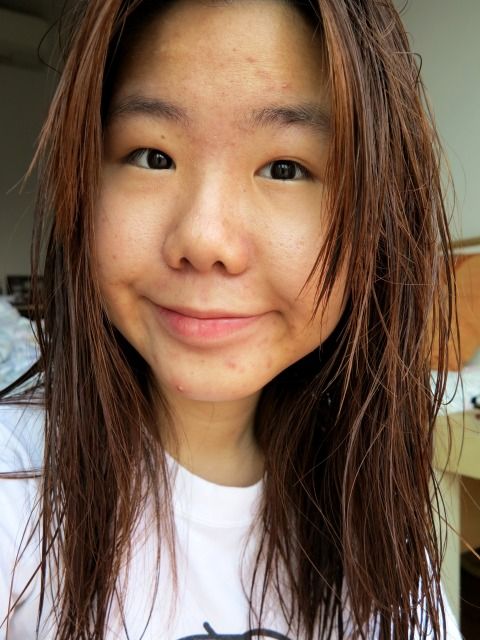 Pimples, scars, blackheads, whiteheads, enlarged pores.... I have them all.
After suffering for so many years, I wanted to put an end to everything. Nice skin that I desire, I have been waiting for you for 8 years. It's time to put it all to a stop and achieve what I want! I did my research, and found DRx Clinic. I read a lot of good reviews about them from forums, websites and blogs, but then I found that they were not precise enough. Information was everywhere, very confusing. That was why I decided to make this a blog journey to document the whole process for my own record (I am super forgetful), and for people who are interested and want to fight away bad skin so badly like I do.
I went for my first appointment at DRx Clinic a few weeks ago. Located at Tong Building next to Paragon, the clinic was in clean white and totally posh-looking. It was very similar to this picture taken from their Facebook Page (
https://www.facebook.com/TheDRxClinic
) :
I will share with you my whole experience there and the products I was given in my next post. I am so excited! Stay tuned for it! :)
This is their information by the way, in case you are interested already:
302 Orchard Road, 16th Floor
Tong Building (next to Paragon Shopping Centre)
Singapore 238862
Tel : (65) – 6733 1555
Fax (65) – 6733 2983
Mon to Fri : 10am to 8pm | Sat : 10am to 5pm
Closed on Sun & PH