Review: Sun Ray Café X'Mas / New Year Menu
December 18, 2012
Looking for a pocket-friendly place to dine at this Christmas and New Year season that allows you to break away from Christmas dining at the clattery, overcrowded spaces in the city and enjoy at a more relaxed pace?

Even better - want to celebrate it with your furry kids? Then you should check out Sun Ray Café located at Serangoon Gardens! Having lived more than half my life in Serangoon Gardens, it is no doubt a place where quality cuisine at affordable prices are served.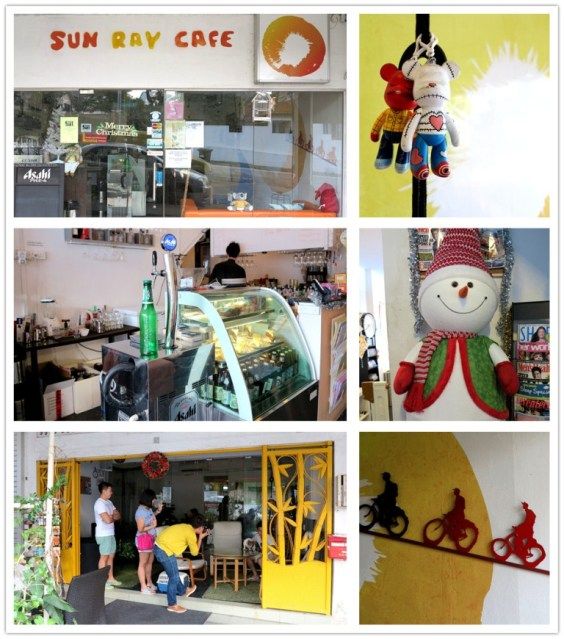 Established in December 2010, this cozy pet friendly café is a secret find. It has consistently enjoyed write ups and mentions from Straits Times, 联合早报 (Lian He Zao Bao), 8-Days, i-Weekly, CHIC magazines and 9tro magazines. If you drive, you are likely to have also heard praises of their cuisines on popular radio stations such as 938 Live, Symphony 924 and Love 972 FM.
The award of 'Best Loved Prawn Pasta' by CozyCot - online magazine offering articles about beauty, fashion and woman lifestyle was a further testimony of the café dedication to great taste and value for its customers.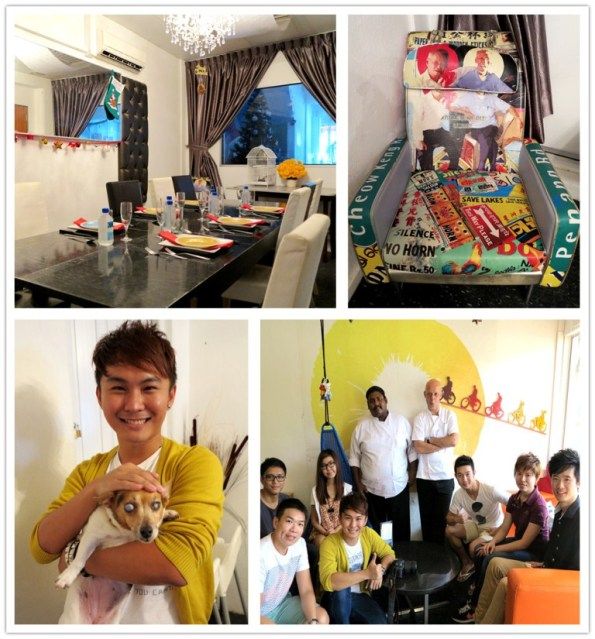 I headed down to the cafe for a food tasting session for their latest Christmas Menu that's available only from 21st - 31st October 2012.
The amazing part about the Christmas Menu is that everything was created out of fresh ingredients sourced by Chef Derrar and Chef 'Bob'. Yes, everything was made from scratch! Nothing was obtained conveniently from a can, even down to the sorbet. The result is superior quality palate that's hard to resist.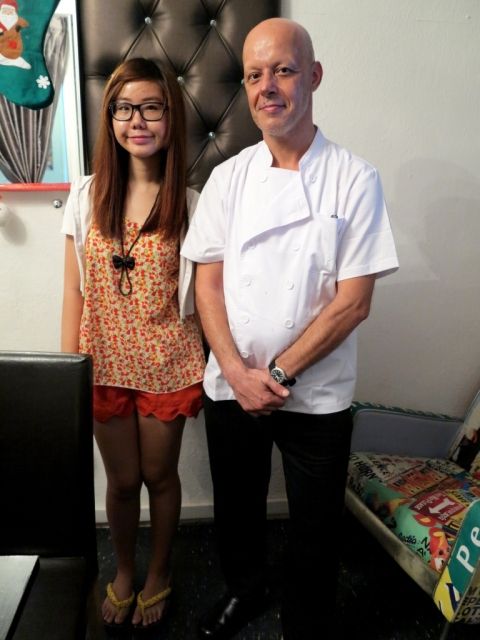 With the Head Chef, Chef Derrar.
It was a complete honour for me to taste the dishes prepared by him, because he used to be the Head Chef for 10 Downing Street (the 'Istana' of the UK), preparing dishes for the UK Cabinet. Yes, even the UK Prime Minister! ;O
Together with some of my friends, we enjoyed our meal in a private room meant for 10.
For the finger food, we had the
Amuse Bouche
.
Avocado & Salmon on Crostini - Avocado, chilli lemon juice on top of roasted tomato bread.
Cherry Tomato & Mozzarella - Cherry tomato, basil, buffalo mozzarella & pine nut on roasted bread.
Beef Carpaccio & Truffles - Sliced raw beef with truffle essence.
The roasted bread was very crispy and slightly hard (if your teeth is not strong enough). I found it a nice mix of something so flavourful with something plain.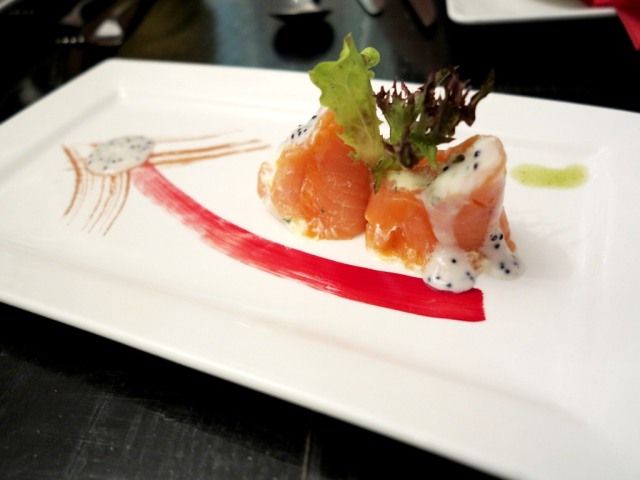 For the Choice of Appetiser, we had the
Smoked Salmon Roulade
.
Scottish Smoked Salmon is stuffed with mascarpone cheese, orange zest, dill herb, lemon juice and served with black caviar. The salmon is smoked slowly over the oak wood from The Macallan, which is a premium single malt whiskey from Scotland.
This was one of my favourite dish! The salmon was cooked differently which explains why it's really good, with saltiness that's just right. The combination if saltiness, lemon taste and salmon was well balanced. You can taste the slight Macallan whiskey taste.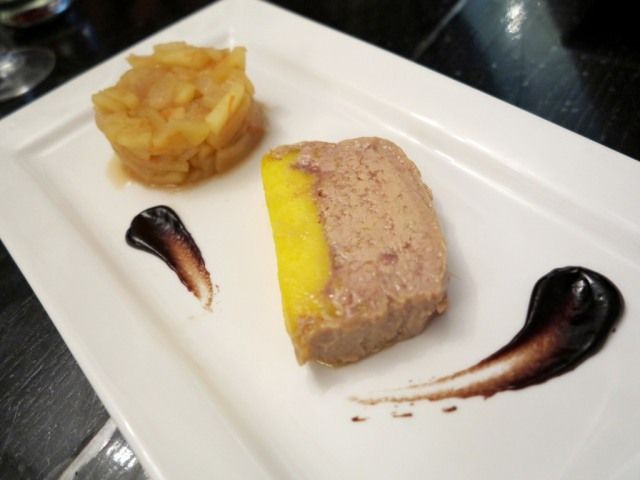 The other Choice of Appetiser was the
Foie Gras
.
Duck fattened liver marinated with port wine, brandy, cinnamon, salt, pepper, then pressed in terrine dish. Baked in bain marie for 20 minutes, and served with diced apple and pear, and coated with port wine and bitter chocolate sauce.
It was an interesting mix of sweetness, saltiness and bitterness. I heard that it took the chefs 4 days to make this dish! You can taste the slight wine taste, and the yellow part is the fats, which tasted something like salted egg yolk. I found it too salty for my liking though!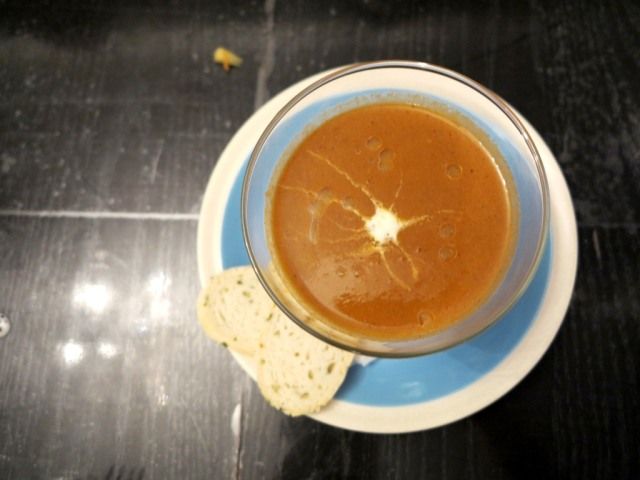 For the soup, we had
Lobster Bisque
.
Carrot, celery, leek, onion, garlic and lobster shell are cooked slowly until lobster shell is dissolved, and then blended to extract the juice. Tomato paste, red wine, tarragon (herb) and lobster meat are added and cooked for another hour. Serve with home-made bread.
Super a lot of work was taken to create this dish as it's a very long process! The chive bread was hard, but amazingly, it turns soft when you dip it into the soup. This lobster soup is a climax before the main course. The lobster flavour is very strong, thus lingers in your mouth and soothes the appetites.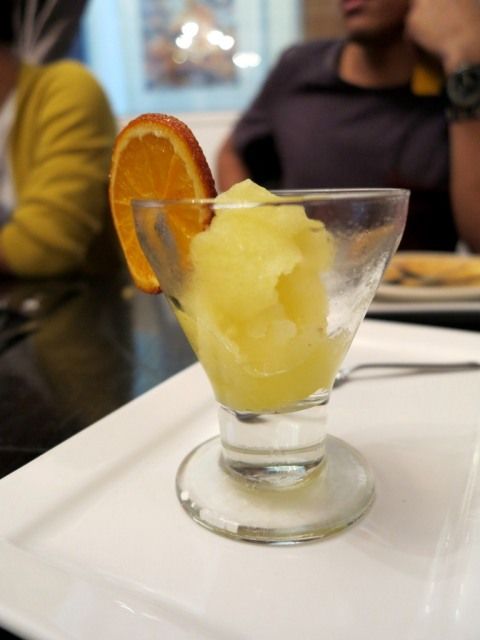 We were served with a shot glass of
Sorbet
with flavour of lemon and pineapple to clean the pallet.
Never ate dessert halfway through a meal before, hahaha. It is a mixture of pineapple, lime and lemon. Despite that, it wasn't too overly sour as I expected it to be. It has a tangy taste to it that surprises you with mini pineapple bits with every bite into it.
We got the
Moscato D'Asti
, a sweet wine, to go with the sorbet. It has only 5% alcohol in it!
This is a "Denominazione di Origine Controllata e Garantita" (DOCG, controlled designation of origin guaranteed – the highest quality assurance label for Italian food products) sparkling white wine produced mainly in the Asti, Italy. It has also recently scored 88 points on the 100-point Wine Spectator published on 11/30/2012. The wine is sweet and low in alcohol, and often enjoyed with dessert. Typically reminiscent of ripe melons and blossom, it has an uplifting perfume and although sweet, it is light and refreshing.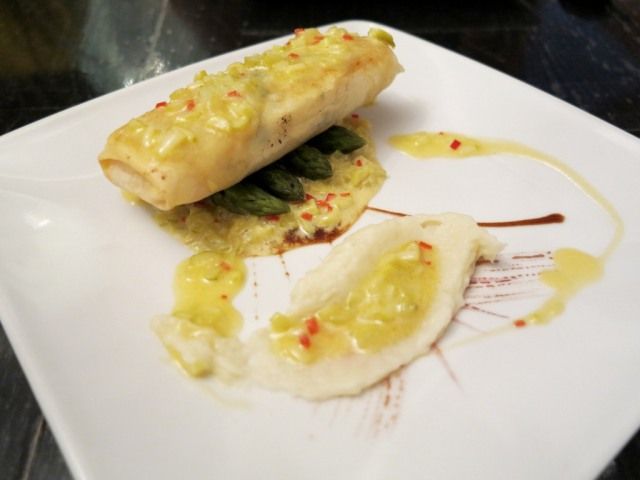 And for the Choice of Mains! First up, this is the
Salmon En Croute
.
Salmon fillet seasoned to perfection with salt, pepper, lemon juice, wrapped in filo pastry and baked at 200 Degrees Celsius in oven for 10 minutes. Served with Jerusalem artichoke and green asparagus with lemon, cream and white wine sauce.
This is 1 dish one has to be careful with. The skin is similar to the popiah skin we're used to eating, so the chefs had to make sure that it does not tear apart. The freshest and highest grade artichoke, the root of the sunflower, was used, together with US asparagus. I like the skin a lot, and the salmon taste inside the skin is in tact. It is a unique combination of ingredients.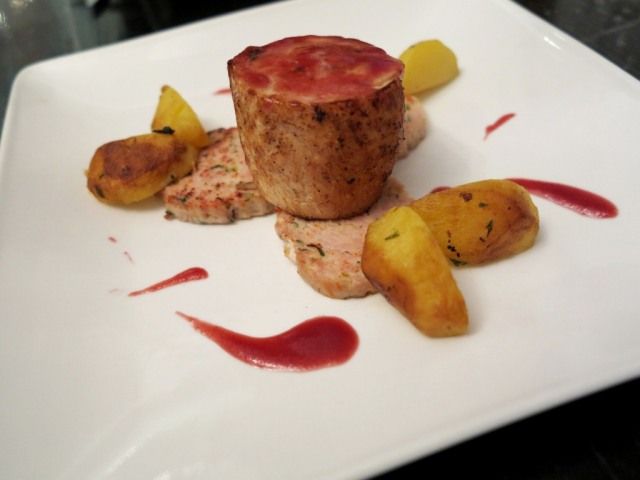 The other Choice of Mains was the
Turkey Breast
.
Tender turkey breast stuffed with chestnut, minced pork, rolled and baked at 200 Degrees Celsius for 20 minutes and served with roasted potato and cranberry sauce.
What can I say - it has got all the Christmas ingredients! It wasn't too salty and the stuffed portion compliments the turkey well.
And it's time for desserts! We had the
Pudding
.
It is made with mixed dry fruits, brandy and cinnamon, and served with egg yolk, cream, sugar and brandy.
It was very European style! It tastes sweet and warm, and for some reason, similar to a fruit cake. Could taste the brilliant brandy taste, though I prefer it to be slightly stronger. Surprisingly, the sauce tasted like vanilla ice cream, just not as sweet!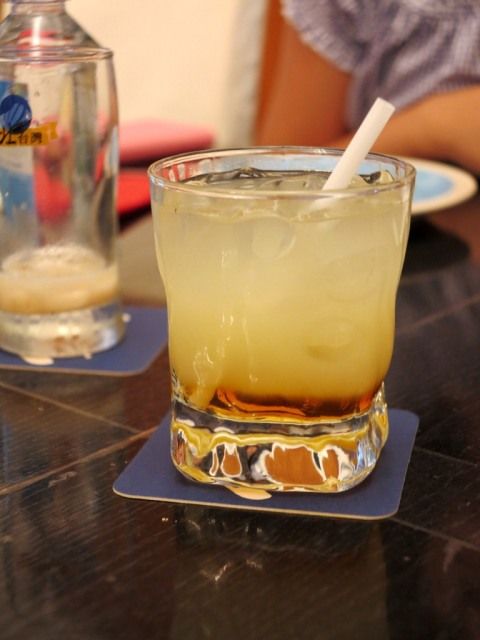 If you're interested, you can try out the drinks that are out of the menu. They have in-house specials!
For cocktails, they have the
Charlie Chaplin
.
A premium cocktail which was once one of the premium cocktails drunk at the famous Waldorf Astoria in the 1920, it has equal mixes of gin, lime and apricot brandy to create a gentle cocktail that is thick and sweet.
A tweak of the very expensive drink in the US. The taste was more on the lime.
Another cocktail you can try is the
Orgasm
.
It is a delicious drink made from Irish cream, coffee liqueur and an orange-flavoured liqueur, it's one of the sexiest cocktails in the world.
For the mocktails, they have
Out of the Beach
.
This is their all-time popular drink, and their own in-house mocktail. It's a refreshing and energising drink with strawberry puree, mango juice and pineapple juice. Good for a hot day or as a after-work drink, and even better to go along with a slice of chocolate cake. Smells like strawberry!
Another mocktail you can choose from is the
Minty Cooler
.
It is a sparkling mixture of cranberry juice and mojito mint syrup, it's a perfect finish to a meal of grills. Very minty taste!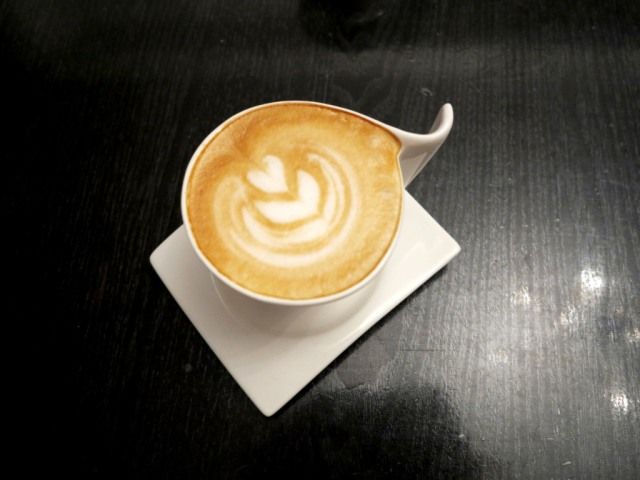 Lastly, you can try their
Cappucino
!
I am no expert when it comes to coffee.. It was alright for me, someone who rarely drinks coffee. Coffee addicts might want to rejoice though, because Senior Barista Foong used to be the Head Barista for Cafe Crema at Gardens By The Bay, where she lead a team of 7 baristas and was responsible to uphold the quality of all beverages served. She was also trained by 3 award winning baristas from the acclaimed Oriole Coffee!
This is the Christmas Menu! ;D
For $60, I honestly think your every cent is well spent on the food alone! YOU'RE EATING FOOD FROM MASTER CHEFS AND SIPPING DRINKS BY TOP MIXOLOGIST + BARISTA! Don't judge it's small exterior; it is a fantastic café with restaurant standards. The ambiance is really friendly too! I forsee myself frequenting this place pretty often. However, people who are allergic to pets have to be careful!
79 Brighton Crescents Serangoon Gardens S(559218)
6283 8700
Email: happy@sunray.sg