Review: Taipei Station
December 21, 2012
Are you a fan of Taiwanese popular street food and their fragrant bubble tea? Then you're in luck! ;D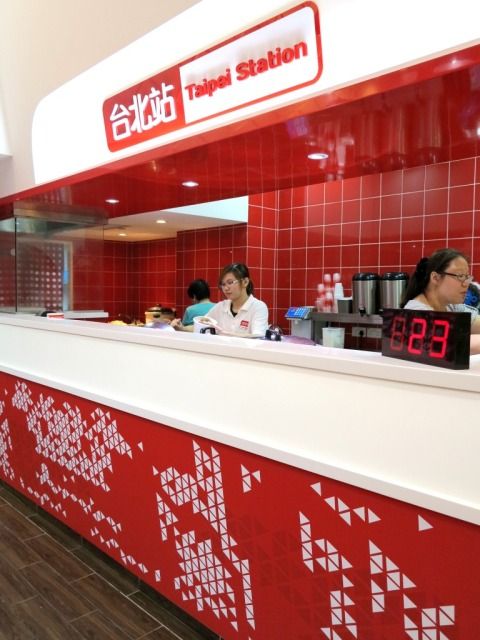 The food and beverage preparation equipment at Taipei Station are specially from Taiwan, not to mention that their food are of authentic recipes, spices and seasonings. Premium tea leaves and pearls are also used for their drinks.
Located at the 4th floor of Bugis+, the store is rather spacious! Definitely one of the biggest I've ever seen for a Taiwanese street food store in Singapore. You can enjoy your food and drinks without worrying much about where to sit.
Prices are rather reasonable, and you can get a set even! For around $7.90 ~ $8.60, you can get a choice of 1 Main Dish + 1 Side Dish + 1 Drink!

Here are some of the items: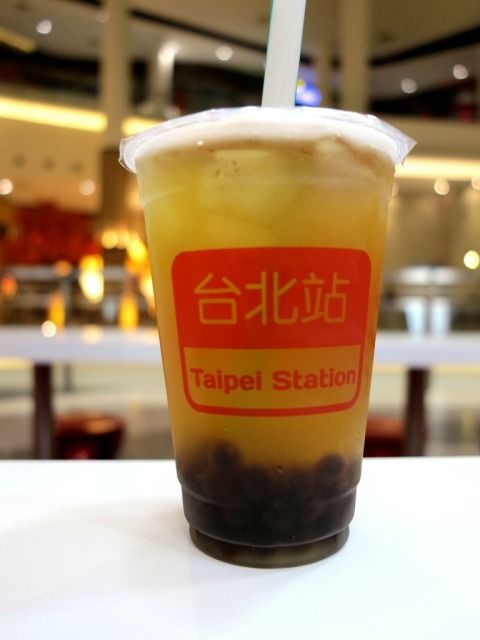 For my drink I got the
Jasmine Green Tea with Pearl!
As you can choose the sugar level, I got it at 30% so it is not too sweet. Even so, the taste of the jasmine was not too overpowering for me. I have to say that I like the pearls a lot!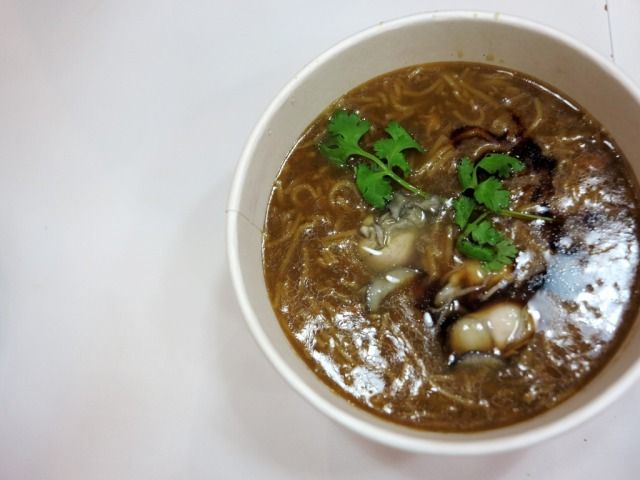 STAR ITEM - Oyster Vermicelli!
This popular noodle soup is one of the must-haves. I found the noodles and the sauce pretty thick, different from what I usually nomnom. It wasn't too mushy and I like the oysters because they were easy to chew. It tasted a little sour though.
STAR ITEM - Crispy Chicken in Original!
I found the chicken a bit too hard for my liking to be honest, but I am not sure whether it is due to the fact that I ate it when it was almost turning cold already. However, it was not too salty but the distinct taste of the chicken was there.
STAR ITEM - Crispy Chicken in Cheese!
I never ever tasted chicken in cheese flavour, so boy was I excited! This was definitely very unique. I am not a big fan of cheese (afraid of getting fat hahaha), so I am particularly fond of this because the taste of the cheese was mild yet good.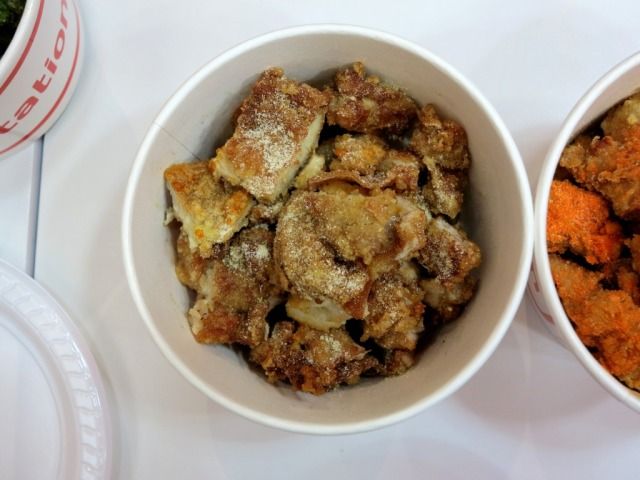 STAR ITEM - Crispy Chicken in Wasabi!
Another very original creation! I was afraid of trying this at first; I don't know how to appreciate wasabi at all! To my surprise, it wasn't spicy as I expected it to be and has got a very special taste to it.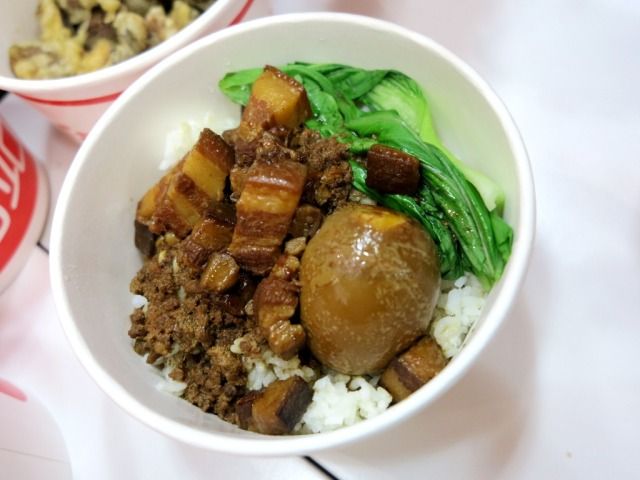 STAR ITEM - Braised Pork with Rice!
I found the rice mushy for my liking, so you might get sick of it after eating a few mouths. But I must comment that the size of 1 grain of rice was so huge! Meat was not hard, sauce and pork was not as salty as expected.
STAR ITEM - Cold Noodle with Peanut Sauce!
This was the first time I tried something like this. It tasted like peanut butter for some reason, maybe because of the peanut sauce. Worth a try though! If I were to use two words to describe it - Sticky and Cold.
Calamari was easy to chew off. It's very bouncy, very 'Q', as the Taiwanese would describe it.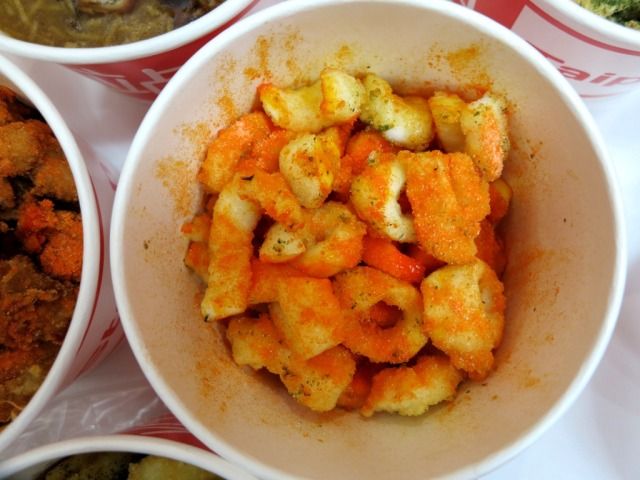 Calamari in Cheese!
It's about the same as the one in seaweed. This was one of my favourites because the cheese taste was obvious and you just get addicted to chewing it!
This is rather interesting because when you take the first bite into it, it tastes all fried and crispy. However, after a few bites you can taste the broccoli. Wasn't particularly fond of this though; don't like vegetables ;X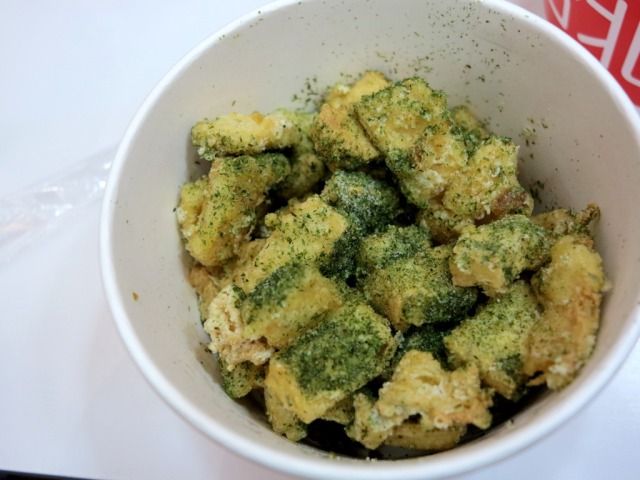 Fried Tofu Cubes with Seaweed!
This was very crispy on the outside, yet soft on the inside. It would be good if the tofu on the inside was smoother.
Fried Mushrooms with Sour Plum!
It has a very salty taste at first, but then slowly the taste of the mushroom sets it. Like I've said, I am not a fan of vegetables so ya.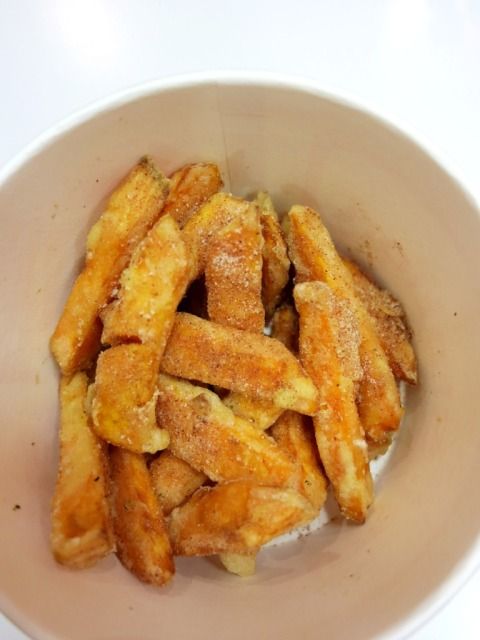 Sweet Potato Fries with Sour Plum!
Not a fan of sweet potato too hahaha, why am I so picky with my food! You can taste both sweet and sour at the same time. Fans of Sweet Potatoes might like this!
There are also various Add Ons that you can choose from if you feel that you haven't had enough of Taiwan goodness! ;D


Taipei Station
201 Victoria Street #04-03 Bugis+
Opening Hours: 11am - 9pm