[Giveaway] Cocoa B
January 31, 2013
I smell love in the air, do you? The month of February is here, which means it's time for Chinese New Year and Valentine's Day! With so much happening, here's the big question - what gifts should I get?
February is undeniably the month of chocolates. You give it on Valentine's Day to the ones you love, and munch on it when you go for house visiting during CNY. So instead of munching on the same old chocolates every year, why not be more adventurous and try something new? Hey, we survived the apocalypse! It's time for a change!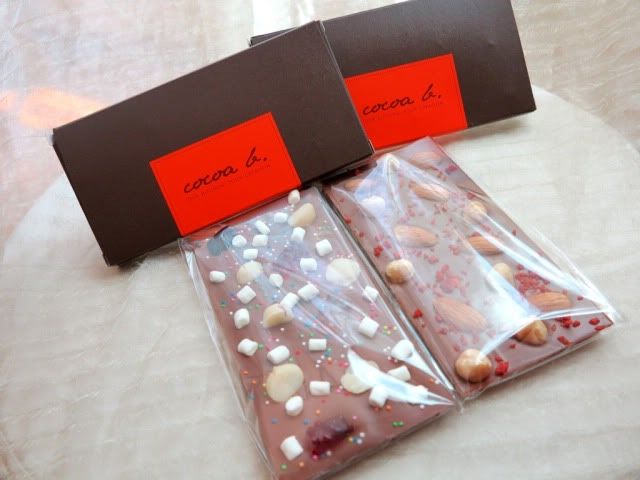 Being a chocolate lover myself, I have a sweet tooth, so I eat all sorts of chocolates and love to try the different tastes. I know of some people who avoid eating chocolates (ikr, WHAT!?) because it tastes too plain by itself / they are allergic to the toppings (normally nuts) that come together.
When the lovely team behind
Cocoa B
approached me to try out their chocolates, you cannot image how merry I was!
Cocoa B
is a very unique chocolate concept where you can create your very own chocolate bars online. That's right -
chocolates can now be custom-made
, guys. This is good news to people like me who like to experiment with new stuff, and also for my picky friends!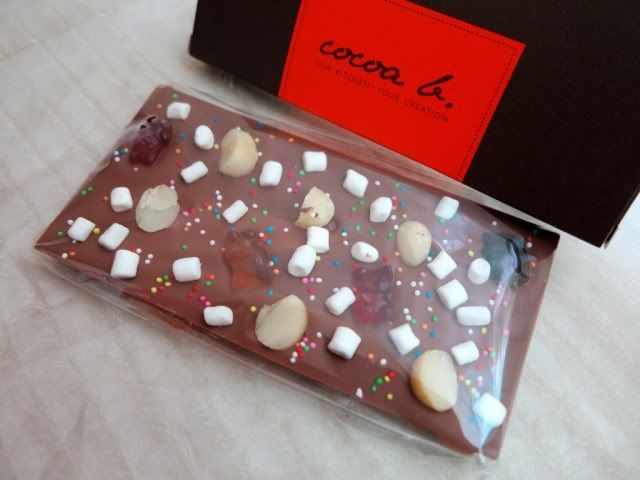 Here's how it works:
1. Choose your choice of chocolate bar
2. Select your toppings from 5 categories
3. Make payment and your creations will be delivered / mailed to you
Since Valentine's Day is approaching, they have an extra Valentine's special topping section!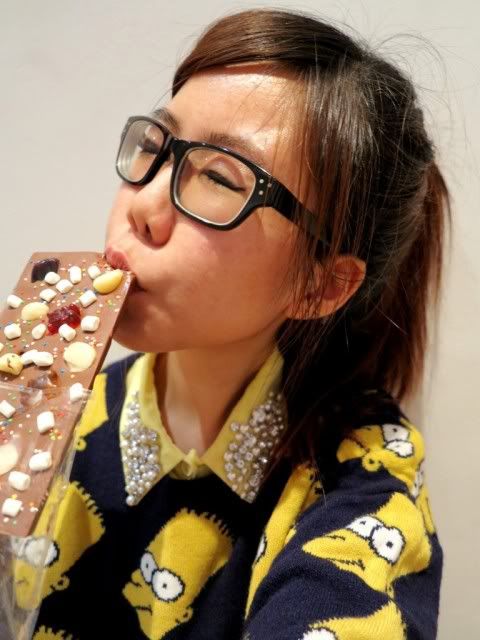 For my creation, I call it the
Jongified
for obvious reasons. I decided to stay safe and selected Milk Chocolate + Hazelnuts + Gummi Bears + Marshmallows + Sprinkles (balls)!
It turned out a little too sweet though (too much candy stuff), but still tasted awesome! I was hesitant on choosing the more exotic flavours at first as I was afraid that it would turn out weird, but after reading the reviews from the others, I regretted! It looks reallyyyyy good, I kid you not.
Note to self: Just go for it the next time!
I received an extra bar of chocolate (thank you for being so nice,
Cocoa B
;') ), called
Bacon Nuts
. It is a really popular creation, the best seller! It is the combination of Milk Chocolate + Bacon Bits + Hazelnuts + Almond.
OMG SAY WHAT!? BACON ON CHOCOLATE!? YOU MEAN HEAVEN ON HEAVEN!?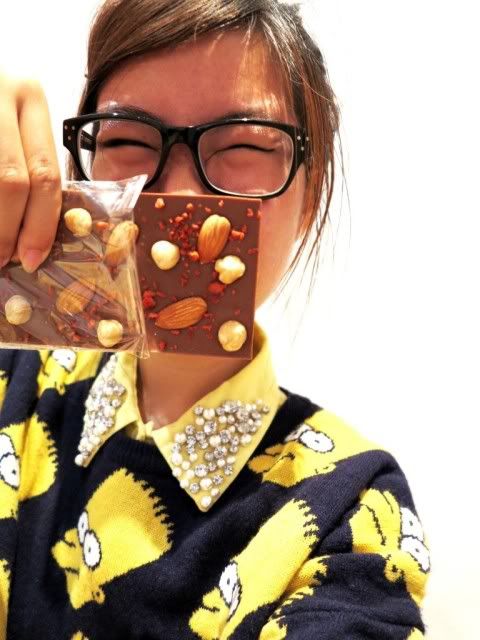 Needless to say, this was my favourite creation out of the 2! Nom nom nom!
Interested already? \(@ ̄∇ ̄@)/
Get 10% off your purchases with the code
IREADIISJONG10

This code is only valid until 28 February 2013.


IT'S GIVEAWAY TIME!
Thanks to
Cocoa B
for their generosity, I am giving away a bar of chocolate,
YOUR
own creation! You can have it for yourself, or give it to your lover/family/friends/anyone you want. I'm pretty sure they'll be really surprised by such creativity!
HOW?
1) Visit
http://www.cocoa-b.com/
and create your very own chocolate bar.
3) Remember to end your post with "I read iisjong.blogspot.com" to qualify.
4) Most creative creation wins!
This giveaway is open only to readers residing in Singapore, and ends on 7 February 2013, 2359pm. I will comment on the winning entry on 8 February 2013! ;D
For more information, visit: