D.I.Y-ed My Own Laptop Cover
February 28, 2013
As some of you are aware, my dad recently bought me a new Macbook Air! \(@ ̄∇ ̄@)/ It definitely came as a surprise for me! My birthday was still far away, and Christmas was long over. My dad - surprising me every day since 1993.
Along with the laptop, my dad also bought me a ugly and boring looking grey cover to go along with, as well as to protect my new toy. Initially, I didn't quite want to use it... But because it's pretty expensive, so might as well.
Of course, I couldn't just leave it looking like that right! I had to to something! And that was how I started digging up for craft items in my room, looking for an inspiration for transformation.
- Firstly, I visualized how I wanted the design to be like. I was very sure that I wanted "iisjong" as my main design since it's my online persona. Also, in case my laptop gets stolen *touch wood*, it's much easier to find me.
- I found felt cloths I bought from Daiso a long time ago. Only used a bit of them. They were suitable for my design, plus there're all in different colours. I love colours! Ding ding ding, they fit the bill!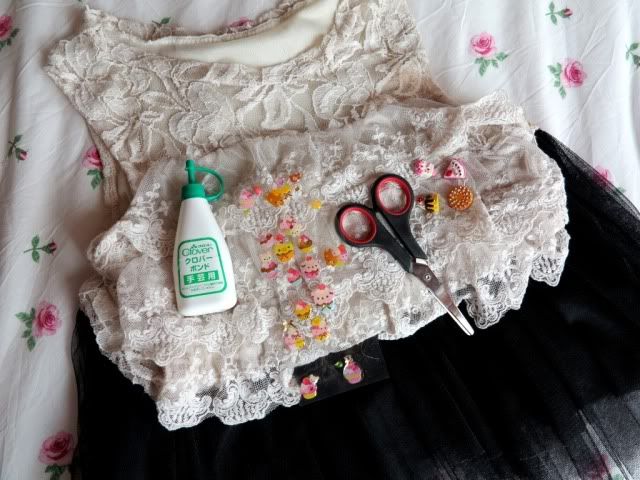 - I have this old dress that I was about to bin a week before I got my Macbook. The lace details were too gorgeous, so I didn't bear to throw it yet... I chucked it aside first, thinking that they might be of use another time. One week later, I was right! So I cut them out and stuck them together.
- Found some old stickers and those stick-on thingys for phone I got from Daiso (oh, you fantastic place!) but never used. So I stuck them on too.
- I had scissors, but no glue. So I went down to a craft shop in Ang Mo Kio and bought fabric glue. Costed me $3.90.

- Kiapped the whole thing in-between the cover and laptop.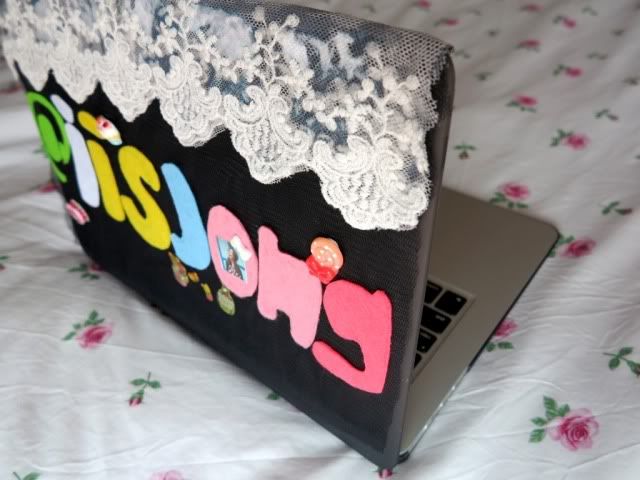 Ta-dah~ End product!
I also found a picture of me on the brochure for Safer Internet Day, so I cut it out and stuck it too!
- Because there are holes on the lace, you have to be careful not to do it on tables and newspapers etc in case they stick together. I had to stick on another layer of lace because I couldn't get the newspaper bits out that got stuck with the glue!
- I found a brilliant idea to conquer that problem, and that was to hang it with your laundry. Use a clothes peg to kiap it. Good way to dry it too, since there's more... Air ventilation?
- Remember to glue the stickers too! They drop out pretty easily.



I hope you'll have fun making your own! Take pictures and show me if you do ☆*:.。. o(≧▽≦)o .。.:*☆