Despicable Me 2 + Minion Invasion Setup
June 28, 2013
If you haven't already heard, the Minions from Despicable Me 2 are set to invade Singapore! Their current location is at The Cathay. *cue spy music*
Thanks to all the Gods there are that I am a
CNOS Blogger
- I got the privilege to witness the entire Minion Invasion, right from the set-up all the way to the preview of the movie! :')
Believe it or not, it all started from this little red bag!


Minions don't to face palms because it's too mainstream; they do floor palms.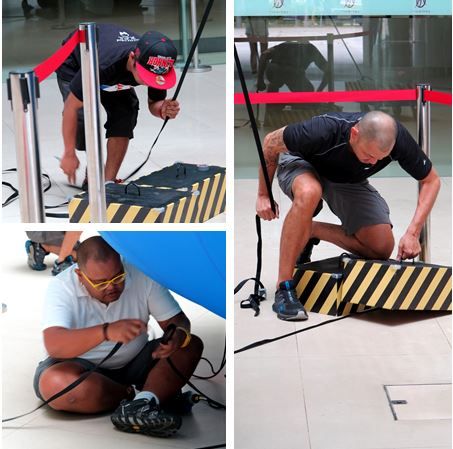 If you think it's easy work, think again. Lots of behind-the-scenes hard work involved!
While the rest were inflating the Minion, Don and I also inflated in terms of squeals. TOO CUTE! We worked very hard too, taking pictures that is ;P

Btw, the Minion looks like Overly Attached Girlfriend, no?
Instruction manual for the cardboard Character Standees set-up. I've always thought that it was all done nicely and provided for, all they had to do was to display it!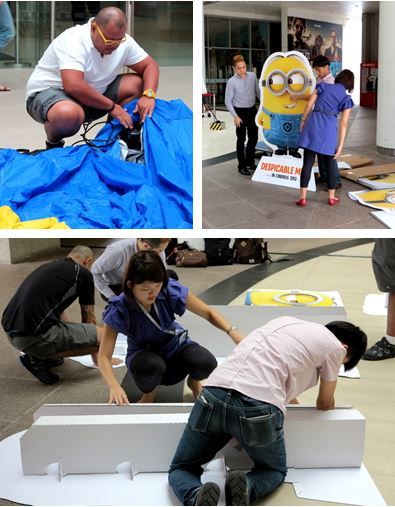 Jeng Jeng! Minion Invasion: Complete.


Yes, I really wish you were!
If you would like to take a photo with the Giant Minion, it will be at
Cathay Cineleisure Orchard's Basement 1
to meet you from
8 to 28 July
. This is the
ONLY ONE IN SINGAPORE
, exclusively at Cathay Cineleisure Orchard.
Remember to tag
@cineleisure
in your photos and videos!
I recorded down the whole process of the setup. I hope that you'll find it informative! ;)



Follow Cathay Cineleisure Orchard on Facebook, Twitter and Instagram to stay updated on their
Promotions, Events and Giveaways!
Twitter/Instagram/Vine: @cinelesiure


Am thankful for the opportunity to catch Despicable Me 2 preview in 3D on the 25th of June! Normally movie sequels are not as good as the original, but I can tell you honestly that Despicable Me 2 was definitely on par.

Even though there are many mixed reviews, but one thing's for sure - we all agree that it was a brilliant and light-hearted movie. I felt that Despicable Me 2 was rather fast-paced, but it got the audience laughing out loud throughout the film! The Minions were so punny!
Super cute Minion 3D glasses, yellow like a banana!
I was drawn into the colourful and cheerful animations, which is one of the things I look for in a film. It got me smiling and feeling positive about life when I stepped out of the movie theatre. The humour in the film is something both the adults and kids can appreciate, a silly film that never ceases to be entertaining and knows how to capture the audience's attention.

Don't expect too much from this film though! There are no major mind-boggling twists and story lines to it. There were also nothing memorable in particular in my opinion, except the last part when the minions sang... Well, just sit back and enjoy the fun and laughter!
I can haz Despicable Me 2 goodies too! ;D
The kids have grown up, they know how to love and to kick ass. Gru also stopped being so grumpy and learnt to open up his heart and find his true desires. I wish he was my dad! I loved the minions, they were as lovable as ever. I'll definitely be catching this amazing film again when it officially releases in July. You're never too old for Despicable Me 2. *winks*
Catch Despicable Me 2 at Cathay Cineplexes today!