My Battle with Acne at DRx Clinic - Part 9
September 6, 2013
Read my previous entries:
I understand that it has been quite some time since I last updated on my skin condition. Many asked what happened to me, where are the updates. I can't apologize enough to all of you! Schoolwork was crazy the past few months and I had to deal with truckloads of assignments and exams.
But the good news is - I AM BACK!!! :D
-----------------------------------------------------------------
*All pictures in this post are unedited except for brightness and contrast.
No one ever regrets taking time to look after their skin, don't you agree? Late nights and hormonal changes took a toll on my skin condition. I discussed with Dr David Ng what was the next treatment I should go for. He suggested I do the EC.
EC is an advanced manual extraction (or facial extraction as people would say), extracting out the deeply embedded papules.
To be honest, I've done probably hundreds of extractions before that I even fell asleep a few times =.= I remember clearly this session, I was nervous because I didn't know what to expect, yet relaxed since it was nothing much to me anymore.
But I knew where it was going the moment I had to put on numbing cream. IT WAS FREAKING PAINFUL!
EXTREMELY GROSS PICTURES AHEAD!
The EC treatment started with Dr David Ng using some tool to "poke" my face. It felt like I got zapped in the face! It felt like ant bites, I would say.
Pain Meter - 6/10?
It was followed by extraction using this circle tool thing! It was painful, especially at the sensitive areas. I teared naturally and unknowingly! :'(
Pain Meter - 8/10?
Yeah gross, I know.....
The white thing you see? I would describe them as pimples that are "not riped". They have no opening to go out, so an opening is created to extract out the embedded ones!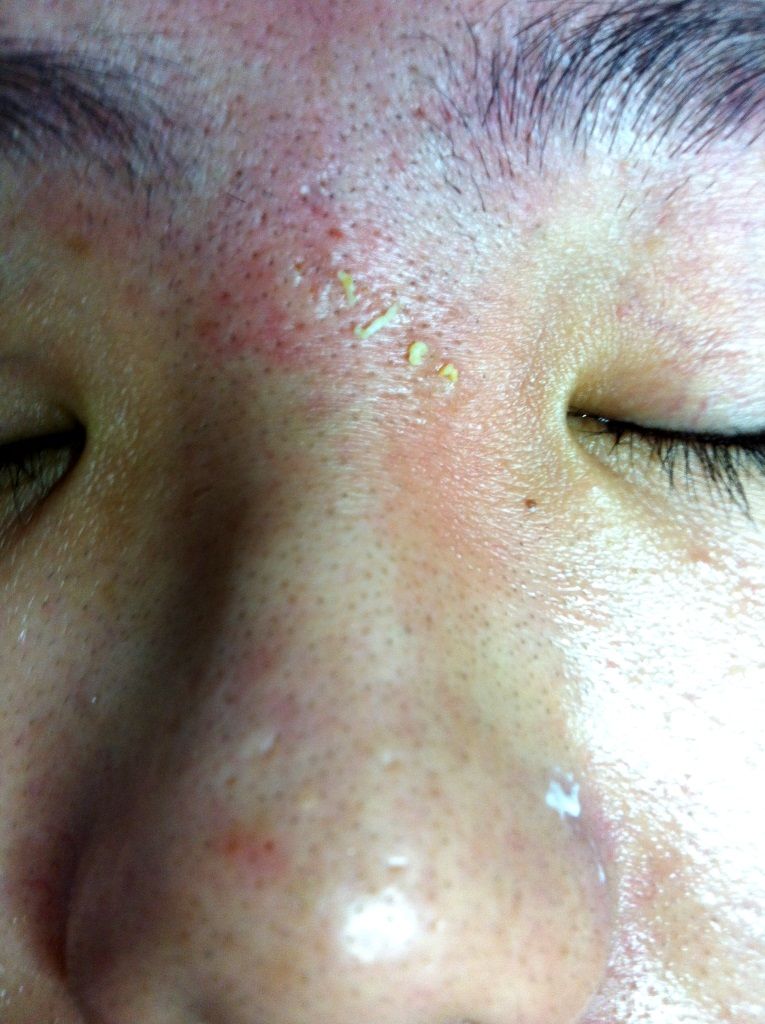 These are what looks like "oil" between my eyebrows that I have since foreverrrrrr! Initially, I thought they couldn't be taken out. Who knew that they were actually evil things :(
When I was done, a yellowish cream and sunscreen was applied on my face!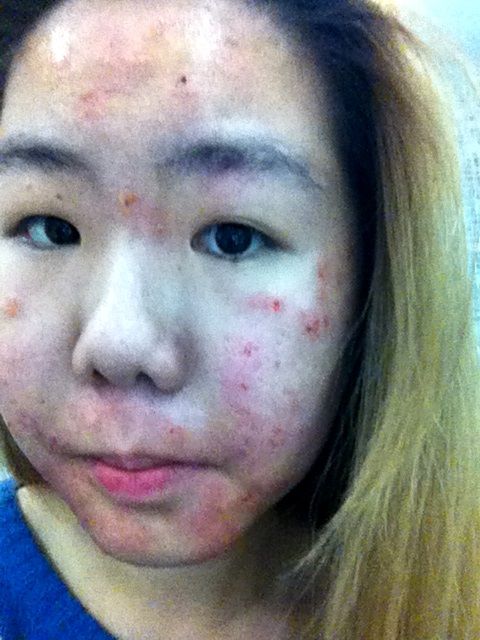 How I look like after the whole treatment. Do note that this treatment has a downtime and please avoid the sun!
I remember Dr David Ng telling another doctor "I just had a longgggggggg EC session". You can imagine how bad the state of my face was.
I did EC twice. First on 12 June, went back for a review on 15 July, then another session of EC on 19 July.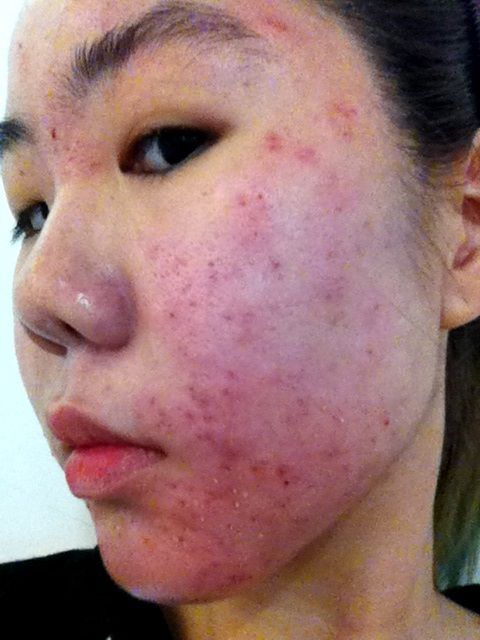 The next day after EC, my skin was not as red and bloody.
I remember the first time I did EC, there were a few small comedones popping out the next few days! I asked Dr David Ng about it, he said it was fine as those were rampants left inside. He couldn't completely get all of them out as there were too many. I had to do EC the second time to get rid of them!
The EC treatment left extremely obvious scars and punctured holes on my face that people began asking what happened to me. Even I myself was afraid, I thought I was going to be disfigured! Didn't dare to go out without a mask to ANYWHERE. But one thing's for sure - my skin was soooooo smooth when I washed my face!
Thankfully, I did other treatments to counter this problem. I wanna announce to the whole world how elated I am with my skin improvements at the moment, even though I know there's still a long way to go! My family and friends have noticed the obvious changes without me saying anything. I'll let y'all know what I did in another post!
-----------------------------------------------------------------
302 Orchard Road, 16th Floor
Tong Building (next to Paragon Shopping Centre)
Singapore 238862
Tel : (65) – 6733 1555
Fax (65) – 6733 2983
Mon to Fri : 10am to 8pm | Sat : 10am to 5pm
Closed on Sun & PH